Precious Years



"Other bands sold their souls to make the music.It`s because our souls that we`re able to make music." Calum MacDonald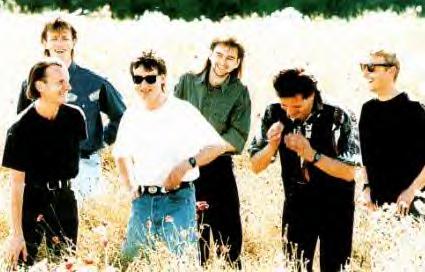 "I think our music is kind of a celebration,maybe-a celebration of landscape.We`ve come from a rural environment,as opposed to a lot of writers,especially in Rock music.So that immediately makes your sources of inspiration very different because you`re writing about landscape and that`s just surrounding it."
Calum MacDonald


The very beginning
The Glasgow Connection
For most British acts, the question of which language to sing in just doesn't arise. After all,thanks largely to our American cousins,English is the international tongue of rock and Pop. But for veteran Scottish outfit Runrig, the Queen's English has often seemed ill-suited to their musical needs and inherently at odds with their strong pro-Gaelic stance. Like manyof their fellow countrymen,the band's chief song-writers,brothers Rory and Calum MacDonald, regard Gaelic as their native language and true cultural heritage,and have spent the last 15 years celebrating and promoting this fact through their emotive, sentimental brand of folk-inspired rock.Until the early 80s, much of the band's material was sung in Gaelic and, as a result,was rarely appreciated outside of Scotland.But since then, in a bid to reach a wider audience, they've switched to writing most of their material in English. Happily,this move has paid off and, by the time you read this,the band should have just completed their first successful, full-scale British tour.This brief career resume might suggest that Runrig have compromised their ideals in an effort to gain more popularity. Nothing could be further than the truth. In fact, it's arguable that the band pioneered the mid-80s renaissance of Gaelic music, which saw acts like the Pogues,Big Country and Sinead 0`Connor become huge international stars.ertainly,they were one of the first Scottish bands to make a happy marriage of Gaelic music and traditional rock, even if the coupling initially drew a barrage of critical flak from both parties.Runrigs story begins in 1965 on the Isle of Skye,when Rory MacDonald. the eldest son of a social worker, first started playing ith a ceilidh-type band, the Skyevers, who specialised in Pop cover versions and traditional country dance numbers. Decked out in homespun approximations of the latest mod fashions, the group were championed as the hippest kids on the block - despite the fact that, like most other ceilidh bands, they never performed their own material. ,,I remember being very impressed," recalls Rory's younger brother, Calum."lt was just so exciting to see people playing rock'n roll music, especially as it was the 60s, when everything was happening. The reality was probably that it was very tame indeed, but at the time I found it really inspiring." In 1968, Rory put aside his musical aspirations, and left Skye for Glasgow Art School, where he studied graphic design. However, in 1971, having returned to his native island for the summer break, his interest in performing was rekindled by Calum, who in his absence bad been writing songs, influenced by the contemporary folk/progressive rock scene. Calum was unable to play the guitar very weIl, though he did aspire to play the drums,so it was left to Rory to provide the instrumental backing.At the summer`s end,the elder MacDonald returned to Glasgow for his final year of tudy,accompanied by Calum,who`d secured a place on a Physical Education course at Jordanhill college.With both brothers now in close proximity-indeed they shared a bedsit-they began writing material in earnest,with another local musician,David Williams,helping to flesh out their sparse folky sound.Two numbers from this period,"Going home" and "Blue Ribbons",survived these early months to become staples of Runrig`s later live sets. (In fact,"Going Home" was reworked for 1981`s "Highland Connection" LP, while ,,Blue Ribbons", re-fashioned as "Tear Down These Walls", appeared on 1989's ,,Searchlight".) By early 1972, the trio felt confident enough about their brittle, rootsy songs to record a six-song demo for Gaelfon, a Glasgow label run by Gaelic music impresario Murdo Ferguson. "We approached him simply because he existed and his label was Gaelic," recalls Calum. Sadly noone was interested in the results- which included an early Version of " Going Home" -though it gave the lads their first taste of recording in a proper studio. The master tape for these demos may still exist, though the group's own copy has long since disappeared. During this period, the band - yet to have a proper name - was largely a part-time affair, and throughout Calum's first year at college, Rory continued to play with a local covers act. But at a family wedding held in Glasgow in late 1972, an event took place that indirectly unified the brothers' musical visions and charged them with the creative potential to set Runrig in motion. The incident in question was the after-dinner performance by Gaelic singer Angus Macleod, whose highly personal and powerful renditions of traditional airs moved Calum to such an extent that he decided to pen a folk song in the ancient language of his native Skye. ,,Air An Traigh", which later surfaced on "Play Gaelic", proved to be the start of Calum`s and later Rory`s journey to rediscover their cultural heritage."We`d gone to Glasgow", reflects Calum ," and left Gaelic behind in some sense-you were looking for the things that excited you as an 18-year-old.But Angus MacLeod`s performance left an impression on me.I bought his LP the next day,and began to take an interest in Scottish history."
The Run-Rig Dance Band
Around this time,the MacDonald brothers met up with another native of Skye,Blair Douglas,a wizard accordian player whose family had moved to Glasgow several years earlier.Eighteen-year-old Blair had just started studying Scottish History at the city`s University,and his concerns about the suppression of Gaelic culture echoed those of his new friends.But though Rory and Calum joined the Douglas family for dinner every sunday,the three ex-patriate Gaels didn`t play together until March 1973,when they were asked to perform at a dance organised by Blair`s mother.With just two weeks till the event, the trio began rehearsing furiously, and Calum, who'd previously satisfied himself with beating out a rhythm on the nearest wooden object, decided to invest in a drum kit.Unfortunately, the problem of noise prevented him from playing it before the gig, so the drums remained virtually untouched until the night itself, when the trio bashed out a lively- but understandably ropey- set, consisting of a handful of reels and a cover of Thin Lizzy's "Whiskey In The Jar".,,I was singing," remembers Calum, and thank God nobody recorded it. lt's hard to imagine now what it sounded like - it probably had a loose, ,punk', Scottish feel."The evening was a grand success, and Calum immediately arranged a string of summer gigs in Skye for the newly-named Run-Rig Dance Band - the ,run-rig' system being a method of feudal land ownership imposed on the Scottish people by l8th century English landlords. Such was the interest generated by these performances that, after couple of appearances, the band were forced to cancel the rest of the dates to fulfil fresh, more lucrative bookings all over the island. In fact, the summer of 1973 turned out to be a glorious time for the band - and not just because their rough, energetic Scottish dance music was much in demand. Earlier in the year, a new paper, the ,West Highland Free Press', had been launched, and its young, politically incisive staff - which included Brian Wilson, now the Labour spokesman for Scottish rural affairs - were prompting a radical reappraisal of attitudes towards Gaelic culture. Not surprisingly, perhaps, they soon latched onto the Run-Rig Dance Band, championing their music and radical outlook.With the autumn of 1973 fast approaching, Calum and Blair returned to their studies in Glasgow, where they spent their spare time jamming with Galum and Rorys old collaborator, David Williams, as well as with various other local musicians. But come the summer of 1974, they were back on Skye, preparing to play another string of Friday night dances across the island with a new singer, an old classmate of Calum's, Donnie Munro. As ever, money was tight, and Calum was forced to take a holiday job as a garbage collector - a position which allowed him access to an old dustcart in the evening.Travelling to their gigs in this clapped-out van, the Run-Rig Dance Band arguably became one of Scotland's worst smelling groups, though what they lacked in personal hygiene they amply made up for with their good-natured performances of country rock, folk and traditional material.Their fame soon spread and, at the end of the summer, Gaelfon agreed to finance some more demos, with a view to issuing ,,Going Home" as a single. "We were quite happy to release a song on a piece of plastic," laughs Calum. ,,Our aspirations weren't beyond that at the time." Sadly, Blair wasn't present at any of the sessions, having become disillusioned with the band's more poppy direction; but bis absence made little difference, as the recordings were never finished due to a succession of technical hitches. As with their earlier demos, the whereabouts of the master tapes is currently a mystery. ,,Someone stole them from one of our friends' car," rues Calum. ,,They're probably still in the south side of Glasgow somewhere."With the summer at an end, the band went their eparate ways, though they reconvened in the Christmas and Easter holidays with a new accordian player, Robert MacDonald (no relation).During the long vacation of 1975, Runrig - as they were now more frequently called - played their customary series of ceilidhs and Friday night dances, as well as a couple of dates on the mainland.